Featured Saint: Pope Saint Sylvester I (Died 335)
Pope Saint Sylvester was the son of a Roman, born at Sant'Angelo a Scala, Italy. He was appointed Pope in 314 and presided at a time when many great churches were founded by the Emperor Constantine including, the Basilicas of St John Lateran and Old St Peter's. He enjoyed a successful relationship with Constantine and it is said, he cured Constantine of leprosy using Baptismal water. His Papacy reigned for 21yrs. Today is his burial anniversary, at the Catacomb of Priscilla. It is often referred to as St Sylvester's Day.
+In the Name of the Father, and of the Son, and of the Holy Spirit. Amen+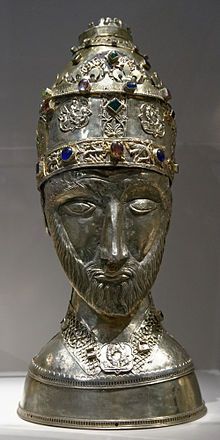 Short Quote: John the Baptist, "came as a witness to testify about the light, so that everyone might believe through him. He himself was not the light, but he came to testify about the light". (John 1:7-8)
Thoughts: Jesus, you are our light, a light that removes all darkness.
Private Reflection: Lord Jesus, hear my prayer; remove my resistance to allow your light to illuminate my heart. Thank you Jesus. Amen
Prayer: Light
The light of God surrounds me,
the love of God enfolds me,
the power of God protects me,
the presence of God watches over me,
wherever I am, God is,
and where God is, all is perfect.
Pope Saint Sylvester: Pray for Us
+In the Name of the Father, and of the Son, and of the Holy Spirit. Amen+
[To view and enjoy the full Readings for today TAP HERE]