Featured Saint: St Stephen (Approx. 34AD)
St Stephen was a Jewish convert to Christianity. He is traditionally regarded as the first martyr of the Christian Church. He was a Deacon who aggravated the members of various synagogues by his preaching and teaching of Christianity and was arrested. In the New Testament (Acts 6:5, 8), Stephen is described as, "full of faith and the Holy Spirit and to have performed miracles, signs and wonders among the people". At his trial, he was accused of blasphemy against Moses and God. St Stephen rigorously defended Christian teachings. The crowd took him outside Jerusalem and stoned him to death.
+In the Name of the Father, and of the Son, and of the Holy Spirit. Amen+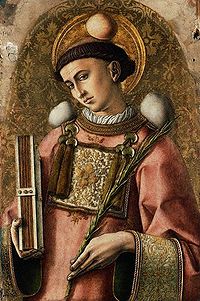 Short Quote: When Jesus asked Simon Peter, who do you think I am, he replied, "The Christ of God". (Luke 9:20)
Thoughts: St Stephen and St Peter firmly believed Jesus' teachings and promises. Today, I ask myself, do I have the same strength of commitment? Answer: with God's help, yes.
Private Reflection: Lord Jesus bestow on us the gifts of happiness and joy. May our faith in you increases day by day.
Prayers: Seeking Faith by St Benedict:
Gracious and Holy Father,
give us the wisdom to discover You,
the intelligence to understand You,
the diligence to seek after You,
the patience to wait for You,
eyes to behold You,
a heart to meditate upon You,
and a life to proclaim You,
through the power of the Spirit of Jesus, our Lord. Amen.
St Stephen: Pray for Us
+In the Name of the Father, and of the Son, and of the Holy Spirit. Amen+
[To view and enjoy the full Readings for today TAP HERE]