The Poor: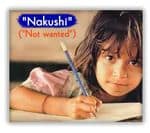 "Nakushi" is our personal reminder to never forget the world's poor. Yes, we all need prompting!
The name comes from the Indian Marathi language. It is a highly degrading and humiliating slang term meaning "UNWANTED".
Sadly, many poor families will suffer huge pressures today, tonight and tomorrow. They lack simple basic needs – clothing, food, shelter… your help will cost $1 for one meal.
NOTE: All our help projects are 100% administration costs-FREE. All donations are used for food, clothing, education and other basic life essentials.