St Philip Neri (1515 – 1595) was born the youngest child into a noble family in Florence, Italy. His father was a lawyer. He was educated at the Dominican Monastery in Florence. At 18, he was sent to work for a wealthy merchant uncle in the hope that his family might inherit his business. However, soon after his arrival, St Philip decided upon a career devoid of worldly goods and he moved to Rome.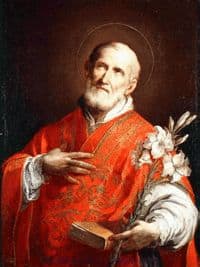 In Rome, he spent the next two years as a tutor to an aristocrat family and then, under the guidance of the Augustinians, embarked on his own studies for the following three years. Thereafter, St Philip began working with the poor and destitute of the city earning himself the name "Apostle of Rome". In 1548 he formed the Confraternity of the Holy Trinity whose lay member's primary role was to help the thousands of poor and often sick pilgrims arriving in Rome every year.
In 1551, although now a Priest, he remained among the poor and incorporated his priestly duties of preaching and administering the sacraments to them. His work also continued to attract fellow helpers who organised themselves into small house communities. They became known as the Congregation of the Oratory and spread throughout Italy and into France. By 1760 it had grown to 58 houses.
St Philip's Feast Day is the 26th May.
---
St Philip Neri:
Pray for us that we will never forget the plight of the poor.
Glory be to the…