Background: St Philip Neri was educated at the Dominican Monastery in Florence. At 18yrs he was sent to work for a wealthy merchant uncle in the hope that his family might inherit his business. However, soon after his arrival, St Philip decided upon a career devoid of worldly goods and moved to Rome.
St Philip worked with the poor and destitute of the city, earning himself the name "Apostle of Rome". In 1548 he formed the Confraternity of the Holy Trinity whose lay member's primary role was to help the thousands of poor and often sick pilgrims arriving in Rome every year. The group spread throughout Italy and into France and by 1760 it had grown to 58 houses. His Feast Day is the 26th May.
---

O Holy St. Philip Neri, Patron Saint of joy, you who trusted Scripture's promise that the Lord is always at hand and that we need not have anxiety about anything, in your compassion heal our worries and sorrows and lift the burdens from our hearts.
We come to you as one whose heart swells with abundant love for God and all creation. Hear us, we pray, especially in this need…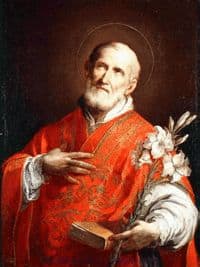 (Share your request… )
Keep us safe through your loving intercession, and may the joy of the Holy Spirit which filled your heart, St. Philip, transform our lives and bring us peace. Amen.
Say: Our Father… Hail Mary… Glory Be…
… St Philip Neri, Pray for Us …