Lord Jesus, look kindly on my work and the work of my friends today.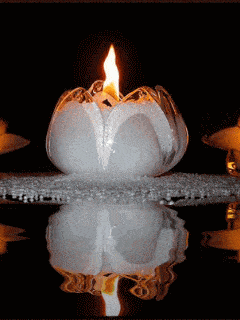 Help us in our difficulties and decisions.
May this candle be a light for you to enlighten me. May it be a fire for you to burn out of me all pride, selfishness and impurity. May it be a flame for you to bring warmth into my heart; warmth towards my family, my neighbours and all whom I meet.
~~~ ~~~ ~~~
Jesus, through the hands of Mary, Virgin and Mother, I place in your care, this, my special intention… (Share your request…)
By sharing this candle, I wish to give you something of myself; the love in my heart.
Jesus, help me to live close to you in prayer today.
… Thank You, Jesus. Amen. …
---
Prayer Request Box
Note: Prayer intentions of site users, are automatically included in our Daily Novena and regular Masses.
To submit a written request for our Prayer Group, use the "Leave a Reply" box below. (Max of 25 Words. Next day publication.)
Ideas: 100 Things to Pray for…
Recent Requests:
Please pray for all suffering from the storms that destroyed many homes in our village last night. May we find help.

May today be a day when everyone in the world says Thank You to God. How amazing if that would happen!

Add my friend CR to your prayers today. May she find healing and live life to the full feeling surrounded by love.

Can you pray with my family for TY, BD, MY, MY and ME. Thank you. Thank you Jesus for your help.

Pray for all killed and injured in the Spanish club disaster. May all find answers and peace.

Please pray for suffering Claire. Strengthen her will.

Pray for the speedy recovery of Fr John, enable him to quickly return to his beloved Parish life.

Thank you Jesus for your past help. Now, I ask that you restore good health to my brothers and sister. May their pains go away.

Our world has many failings but also much good. Lord God, direct us in joyful ways to care more for your beautiful creations.

Please pray for the victims of violence in heir own home. Soften the hearts and thoughts of the offenders Jesus.

Glory to You, God. Thank you for your tolerance and gifts.

I give thanks for the quick recovery of my wife from her recent operation. Thank you to my supportive family, friends and hospital staff.