STATION XIV

Genuflect:
V: We adore You, O Christ, and we praise You
R: Because, by Your holy cross, You have redeemed the world.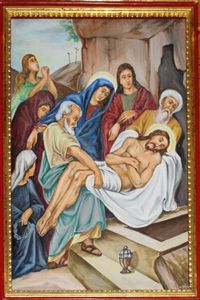 Stand:
V: Consider that the disciples carried the body of Jesus to bury it, accompanied by His Holy Mother, who arranged it in the sepulchre with her own hands. They then closed the tomb and all withdrew.
Kneel:
All: Oh, my buried Jesus, I kiss the stone that encloses Thee. But Thou didst rise again the third day. I beseech Thee, by Thy resurrection, make me rise glorious with Thee at the last day, to be always united with Thee in heaven, to praise Thee and love Thee forever.
I love Thee, my beloved Jesus; I love Thee more than myself, I repent with my whole heart of ever having offended Thee. Never permit me to separate myself from Thee again. Grant that I may love Thee always; and then do with me what Thou will.
Hymn Stabat Mater Stanza:

All: Sing or Say:
By the cross with thee to stay
There with thee to weep and pray
Is all I ask of thee to give
Holy Mother! pierce me through
In my heart, each wound renew
Of my Saviour crucified
V: Have Mercy on Us, O Lord.
R: Have Mercy on Us.
---
PRAYERS IN HONOR OF THE PASSION
O my Lord Jesus, in honour of Thy Passion and death, I offer the following prayers:
Pray: Five Our Father's… Hail Mary's… and Glory Be's…
PRAYERS FOR THE INTENTIONS OF THE HOLY FATHER
O, my Lord Jesus, I offer the following prayers as my petition for this month's intentions of our Holy Father, the Pope:
Pray: Apostles Creed, Our Father… Hail Mary… and Glory Be…
CLOSING PRAYER TO JESUS CHRIST CRUCIFIED
Behold, O kind and most sweet Jesus, I cast myself on my knees in Thy sight, and with the most fervent desire of my soul, I pray and beseech Thee to impress upon my heart lively sentiments of faith, hope, and charity, with true repentance for my sins, and a firm desire of amendment, while with deep affection and grief of soul I contemplate Thy five most precious Wounds, having before my eyes that which David spoke in prophecy: "They pierced My hands and My feet; they have numbered all My bones."
God has loved us for eternity. He said: "Remember when I first loved you, you had not come to be, nor did the world yet exist, but I loved you already. From all eternity I have loved you."
… St Alphonsus de Liguori, Pray for Us …
*INDULGENCES
A Plenary indulgence, the removal of punishment due to sin, is granted to those who faithfully make the Stations of the Cross, subject to the usual conditions, which are:
Must want to gain the Indulgence
Receives the Sacraments of Reconciliation and Eucharist within 7 days
Be free from all attachment from sin
Prays for the Popes intentions
Be in a state of Grace by the end of the process