Preparation
Kneeling, make an Act of Contrition and prepare for the gaining of related indulgences, for yourself or for the Holy Souls in Purgatory.
Indulgences
A Plenary indulgence, the removal of punishment due to sin, is granted to those who faithfully make the Stations of the Cross, subject to the usual conditions, which are:
Must want to gain the Indulgence
Receives the Sacraments of Reconciliation and Eucharist within 7 days
Be free from all attachment from sin
Prays for the Popes intentions
Be in a state of Grace by the end of the process
In the Name of the Father, and of the Son, and of the Holy Spirit. Amen.
Act of Contrition: O my God, I am heartily sorry for having offended Thee, and I detest my sins above every other evil because they are displeasing to Thee, my God. Who for thy infinite goodness is so deserving of all my love and I firmly resolve by Thy holy grace never more to offend Thee and to amend my life. Amen.
Assisted Recording: By Fr. James Curatolo, C.S.P.V
Introductory Prayer: My Lord Jesus Christ, Thou hast made this journey to die for me with love unutterable, and I have so many times unworthily abandoned Thee; but now I love Thee with my whole heart, and because I love Thee, I repent sincerely for ever having offended Thee. Pardon me, my God, and permit me to accompany Thee on this journey. You died for the love of me; I wish also, my beloved Redeemer, to die for the love of Thee. My Jesus, I will live and die always united to Thee.
STATION I: Jesus is Condemned to Death

Genuflect:
V: We adore You, O Christ, and we praise You
R: Because, by Your holy cross, You have redeemed the world.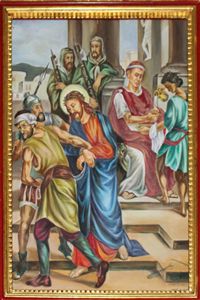 Stand:
V: Consider how Jesus Christ, after being scourged and crowned with thorns, was unjustly condemned by Pilate to die on the cross.
Kneel:
All: My adorable Jesus, it was not Pilate; no, it was my sins that condemned Thee to die. I beseech Thee, by the merits of this sorrowful journey, to assist my soul on its journey towards eternity.
I love Thee, my beloved Jesus; I love Thee more than myself, I repent with my whole heart of having offended Thee. Never permit me to separate myself from Thee again. Grant that I may love Thee always; and then do with me what Thou wilt.
Prayers: Our Father… Hail Mary… Glory be…
V: Lord Jesus Crucified R: Have Mercy on us.
Hymn: Stabat Mater Stanza

All: Sing or Say:
At the cross her station keeping,
stood the mournful Mother weeping,
close to Jesus to the last.
V: Have Mercy on Us, O Lord. R: Have Mercy on Us.