St Margaret Mary (1647 – 1690) was born the only daughter in a large family at L'Hautecour, France. She made her First Communion at nine years. Soon after she was confined to bed, due to severe rheumatic fever.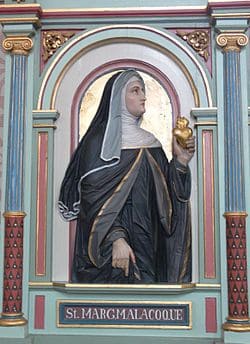 At 14, St Margaret made a vow to dedicate her life to the Blessed Virgin Mary and almost immediately, the rheumatic fever left her.
At 17, her mother encouraged her to enter social life with the view to finding herself a husband. Out of obedience to her mother she did but, when she returned home from one social event, she had a vision of Jesus scourged and bloodied from his Passion.
St Margaret Mary, having reflected on her past promise, entered the Visitation Convent and became a nun. Her visions continued but, few believed her, so she was subjected to many rebukes and trials.
St Margaret Mary's visions were eventually officially recognised by the Church and her devotion to the Sacred Heart became widespread. When her burial place was opened, many years after her death, her body was found to be incorrupt and numerous miracles were immediately reported.
St Margaret Mary is the Patron Saint of Polio sufferers.
---
St Margaret Mary Alacoque:
Pray for us that follow what our heart tells us.
Glory be to the…