Background: St Margaret Mary was born an only daughter at L'Hautecour, France. She made her First Communion at nine. Soon after, she was confined to bed due to severe rheumatic fever. At 14, St Margaret Mary made a vow, dedicating her life to the Blessed Virgin Mary and almost immediately, the rheumatic fever left her.
St Margaret Mary had many visions of Christ's Passion but initially, few believed her, so she was subjected to many rebukes and trials. Today, widespread devotion to the Sacred Heart of Jesus can be greatly attributed to her visions. She is the Patron Saint of Polio sufferers. Her Feast Day is 16th October or 17th Oct (Visitation Order), the day of her death.
---

O St Margaret Mary, through you, Jesus pours out His abundant graces to all mankind. Help us to put aside personal interests and abandon ourselves entirely and lovingly to His Adorable Heart. May our work, like yours, merit His special care and favour, through Jesus' Holy Name.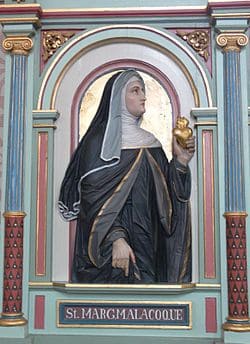 St Margaret Mary, we implore you, to whom the Sacred Heart of Jesus manifested His Divine treasures, to obtain the graces we seek from His Adorable Heart. With unlimited confidence, we ask:
(Share your request…)
O Gloriousd St Margaret Mary, through your intercession, may the Divine Heart of Jesus continue to be glorified and loved.
Say: Our Father… Hail Mary… Glory Be…
… St Margaret Mary Alacoque, Pray for Us …