St Joseph was born pre-BC and died before Jesus started his ministry at around the age of 30yrs.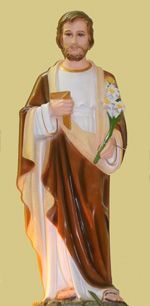 The 1st May was set aside by Pope Pius to celebrate the gift of St Joseph. He was Mary's husband and is the Patron Saint of Workers. The day often coincides with an annual holiday, Labour Day, for workers in many countries around the world.
We generally view St Joseph as a hardworking and highly respected craftsman, a carpenter, but he was also possibly a very learned and literate man.
It is logical to assume that St Joseph died before the start of Jesus' public ministry. The last time that he is mentioned in the Gospels is when Jesus was about 12yrs old.
As a kind and caring father, we can readily imagine that he died happily with Mary and Jesus at his bedside. It's such an image that we would all wish for ourselves, to die with Jesus the Son of God, and Mary Queen of Heaven, welcoming us into our new and everlasting world.
St Joseph is the Patron Saint of Departing Souls.
---
St Joseph:
Prayer to St Joseph:
O Glorious St. Joseph, behold I choose thee today for my special patron in life and at the hour of my death. Preserve and increase in me the spirit of prayer and fervour in the service of God. Remove far from me every kind of sin; obtain for me that my death may not come upon me unawares, but that I may have time to confess my sins sacramentally and to repent with a perfect understanding and a most sincere and perfect contrition, in order that I may breathe forth my soul into the hands of Jesus and Mary. Amen
---