St George (275/285-303) was born into a Greek Christian noble family in Cappadocia (Today's Turkey) and died in Lydda, then Palestine (Today's Israel). At the age of 14, his father died and a few years later his mother.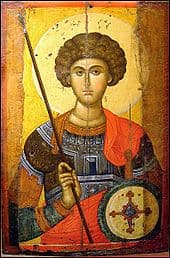 St George followed his father's footsteps, becoming a soldier to Roman Emperor Diocletian. By his late 20's, he had been promoted to the rank of Tribunus (Senior Officer). However, in 302, Diocletian issued orders instructing the removal of all Christian soldiers from his army and all other soldiers to worship and offer sacrifice to Roman Gods.
St George loudly objected to the order and steadfastly refused every bribe from Diocletian, who previously held George and his father in very high esteem. Finally, Diocletian concluded that he had no choice but to execute St George for his "insubordination". St George, proudly celebrating his Christian beliefs, accepted his torture and death by decapitation.
St George's Feast Day is 23rd April, the day of his martyrdom. He is claimed as the Patron Saint of numerous countries, including England and Georgia, as well as professions and sufferers of diseases.
---
St George:
Pray that our commitment to the Christian faith will never die.
Glory be to the…