St Francis (1506 – 1552) was born the youngest son of an aristocratic family at Xavier Castle, Spain. Much of his youth was mired by wars. His father died when he was nine years old. At 19, he left his home to study in Paris and five years later, was awarded a Masters degree in Arts.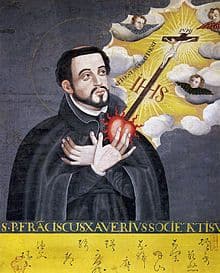 Although apparently destined for an academic life, St Francis, with St Ignatius of Loyola and five others, founded the Society of Jesus (The Jesuits). All made vows of poverty, chastity and obedience, and planned to work as missionaries, converting non-Christians. They studied together for the Priesthood and were all ordained in 1537.
After a period of work in a Bologna hospital and Rome, St Francis set off for Asia as the first Jesuit missionary. He devoted his main missionary life to Goa in India, Indonesia and Japan and converted many thousands to Christianity. He died while on his way to mainland China to continue his preaching and conversion, aged just 46yrs.
St Francis' Feast Day is the 3rd December. He is Patron Saint of many missions throughout the world.
---
St Francis Xavier:
Almighty Father, do not permit that Your Son, Our Lord, remain unknown by unbelievers, but, with the help of Your Saints and the Church, the Bride of Your Son, remember Your mercy, forget their idolatry and infidelity, and make them know Him. (Extract from a prayer by St Francis Xavier)

Glory be to the…