Life Story: St Francis was born the youngest son of an aristocratic family at Xavier Castle, Spain. Much of his youth was mired by wars. His father died when he was nine years old. At 19, he left his home to study in Paris and five years later, was awarded a Masters degree in Arts.
Although apparently destined for an academic life, St Francis, with St Ignatius of Loyola and five others, founded the Society of Jesus (The Jesuits). All made vows of poverty, chastity and obedience, and planned to work as missionaries, converting non-Christians. They studied together for the Priesthood and were all ordained in 1537.
St Francis set off for Asia as the first Jesuit missionary. He devoted his main missionary life to Goa in India, Indonesia and Japan and converted many thousands to Christianity. He died while on his way to mainland China to continue his preaching and conversion, aged just 46yrs. St Francis' Feast Day is the 3rd December. He is Patron Saint of many missions throughout the world.
---
Novena to St Francis Xavier

O Great St. Francis, beloved and full of charity, with you I reverently adore the divine Majesty; and since I especially rejoice in the singular gifts of grace, bestowed on you in life, and of glory after death, I give thanks to God, and beg of you, with all the affections of my heart, that by your powerful intercession you may obtain for me above all things the grace to live a holy life and die a holy death. Moreover, I beg of you to obtain for me: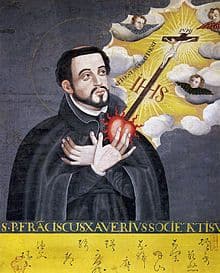 In asking this favour I am fully resigned to the divine will. I pray and desire only to obtain that which is most conducive to the greater glory of God and the greater good of my soul.
(State your request…).
V. Pray for us St Francis Xavier: R. That we may be made worthy of the promises of Christ.
Let us pray: O God, you promised, by the preaching and miracles of St Francis Xavier, to join unto Thy Church the nations of the Indies; grant, we beseech Thee, that we who reverence his glorious merits, may also imitate his example, through Jesus Christ, our Lord. Amen.
Say: Our Father, one Hail Mary and a Glory be.
… St Francis Xavier, Pray for Us …
---
Novena of Grace

We have come together to worship the Lord our God and to honour the memory of His great missionary, St. Francis Xavier. Through his powerful intercession, let us pray for ourselves, for the missionary efforts of the church, and for all the People of God.
For missions and missionaries throughout the world, that through the proclamation of the Good News of salvation, all people may come to know the one true God and Jesus Christ whom He has sent.
V. Let us pray to the Lord: R. Lord, hear our prayer.
For the Church, that renewed by the Holy Spirit, she may show forth to the world the mystery of the Lord and be an instrument of redemption for all.
V. Let us pray to the Lord: R. Lord, hear our prayer.
For Christian unity, that the Spirit of Christ, dwelling in all who believe, may bring us to that fullness of unity which Jesus desires — one Lord, one faith, one baptism.
V. Let us pray to the Lord: R. Lord, hear our prayer.
For the unrepentant, that moved by God's loving mercy revealed in Jesus, they may repent their sins and open their hearts to the divine life of grace.
V. Let us pray to the Lord: R. Lord, hear our prayer.
For ourselves, that we may be ever faithful to our baptismal commitment to Christ, and bring Christ's word and Christ's love to the world in which we live.
V. Let us pray to the Lord: R. Lord, hear our prayer.
Let us pray: Lord God, our Father, we honour the memory of the Apostle of the Indies and Japan, St. Francis Xavier. The remembrance of the favours with which You blessed him during life and of his glory after death fills us with joy, and we unite with him in offering to You our sincere tribute of thanksgiving and of grace.
We ask You to grant us, through his powerful intercession, the inestimable blessings of living and dying in the state of grace. We also ask You to grant us the favours we seek in this novena.
(State your request…)
But if what we ask is not for the glory of God and the good of our souls, grant us, we pray, what is more conducive to both. We ask this through Christ our Lord. Amen.
… St Francis Xavier, Pray for Us …