St Dismas was one of the two thieves crucified alongside Jesus, one on his right and one on his left.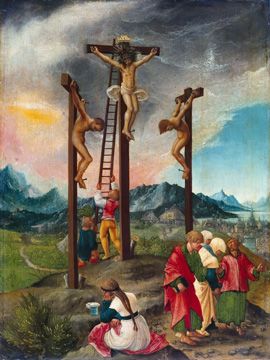 St Dismas, on the right, rebuked the other thief for mocking and saying to Jesus; "Are you not the Messiah? Save yourself and us". St Dismas reminded him that they were being, justly punished for their sins, while Jesus had done nothing wrong.
St Dismas said to Jesus, "Remember me when you come into your kingdom", to which Jesus replied, "Amen I say to you, today you will be with me in Paradise". (Luke 23:42-43)
St Dismas' Feast Day is 25th March. He is the Patron Saint of prisoners and repentant thieves.
---
St Dismas:
Pray for us that we will recognise our sins, confess and repent before our Heavenly Father.
Glory be to the…
---