St Conleth (Approx. 450 – 519), who was probably from County Wicklow (Ireland), was a hermit who lived a life of prayer and penance.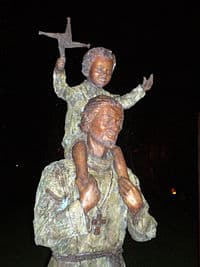 He was persuaded, by St Bridget of Ireland, to make sacred church chalices, crosses and other beautiful metalwork decorations for her convent. A noted artefact that he made for St Finbar of Termonbarry (Roscommon) was his crozier (staff with crook head). He became Head of the Kildare School of metalwork and Priest for St Bridget's monastic community in Kildare. Later he was elected "Bishop and Abbot of Monks" for Kildare.
St Conleth devoted his life to the service of God in every "detail" of his daily work. He died while travelling on pilgrimage to Rome, attacked by wolves in the Forest of Leinster.
St Conleth's Feast Day is the 4th of May. He is the Patron Saint of the Diocese of Kildare and Leighlin.
---
St Conleth:
We pray that while we carry out our daily work, Jesus will be in our continuous thoughts and prayers.
Glory be to the Father…
---