St Bridget, Brigid or Briege (ca 451 – 525), St Patrick and St Columba are Ireland's best-known Saints. She is often referred to as St Bridget of Kildare.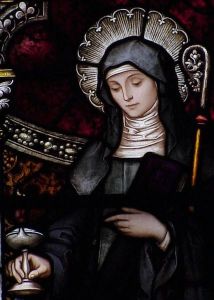 As with many early Church Saints, written records about her life are scarce and incomplete. St Bridget's mother was a Christian slave named Brocca and her father, Dubthach, a Leinster chief. From birth, St Bridget was said to have been especially blessed.
In her youth, Bridget committed herself to a religious life and in later years, established many prayer centres and monasteries. She performed numerous miracles and distributed her acquired and family wealth to the poor. The unique St Bridget's Cross, often made from plant stalks, is attributed to her; it remains a common religious feature in Irish homes and Irish culture.
St Bridget is also venerated in many European countries and America. She is buried with St Patrick and St Columba at Down Cathedral although part of her remains, her skull, is preserved in the Church of St John the Baptist, Lumiar, Portugal.
St Bridget's Feast Day is 1st February. Her Patronage includes Ireland, Irish nuns, dairymaids, blacksmiths, boatmen, midwives and newborn babies.
---
St Bridget:
Pray for us that we will find new energy to draw our family, friends and others closer to the Holy Gospel.
Glory be to the…