St Bridget (1303 – 1373) was born into a very wealthy landowner family in Uppland, Sweden. She married at the age of 14 and bore eight children. Two of her children died in infancy and her husband died when she was 34. One of her daughters is honoured as St Catherine of Vadstena.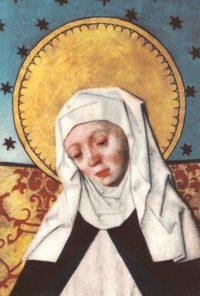 Following her husband's death, St Bridget joined the Order of St Francis and devoted herself to a life of prayer and caring for the sick and poor. She founded the Bridgettine Nuns and Monks.
St Bridget had many visions from childhood, most notably of the nativity of Jesus and of purgatory. She is one of six Patron Saints of Europe. Her Feast Day is the 23rd of July.
---
St Bridget of Sweden:
Pray that we will "receive worthily Jesus' Precious Body and Blood
during our life and at the hour of our death". Amen. (Extract from a prayer by St Bridget)
Glory be to the…
---