Enjoy Praying the Joyful Mysteries with Mary
Reflection
The Joyful Mysteries capture Mary's embrace as the earthly Mother of Jesus from His incarnation, when He became a man, to when He was twelve years old and "Lost," in the temple.
Audio (Rosary):
(For more Catholic Podcasts visit www.discerninghearts.com)
YouTube (Rosary & Litany to Blessed Virgin Mary):
1. The Annunciation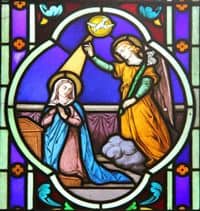 Mary was engaged to Joseph when the Angel Gabriel appeared to her saying, "Greetings, favoured one, the Lord is with you …you are to conceive and bear a son and you must name him Jesus." (Luke 1:28,31) Mary must have been overwhelmed by this news but she humbly accepted God's will.
2. The Visitation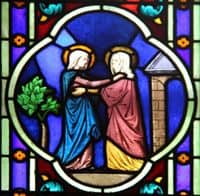 The Angel Gabriel also told Mary that her much older cousin Elizabeth was already six months pregnant. What a surprise this would have been to Mary and her friends; wasn't Elizabeth barren because of her age? But, "Nothing is impossible to God." (Luke 1:37) What was Mary's response to this great family news; she, "Went as quickly as she could," to visit Elizabeth.
3. The Birth of Jesus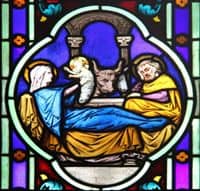 With numerous others, Mary and Joseph went to Bethlehem to conform to a Roman census instruction. Their journey was long and arduous, they needed a place to stay overnight but the Inns were full. It was in a stable that they found shelter and where Mary gave birth to the Son of God, Jesus. What humble surroundings for a new-born but of course, very joyous foster parents.
4. The Presentation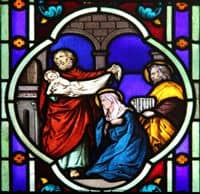 As part of Jewish custom, Mary and Joseph took the baby Jesus up to Jerusalem, "To present him to the Lord: Every first-born male must be consecrated to the Lord" (Luke 2 23-24). This would have been a very proud traditional family moment for Mary and Joseph but yet again, there were more surprises. Simeon, "An upright and devout man," took Jesus in his arms and proclaimed, "My eyes have seen the salvation which You have prepared for all people." (Luke 2 30-31) What must Mary and Joseph have thought having, once again, heard the same message as revealed by the Angel Gabriel, the Shepherds and the Wise Men?
5. The finding of Jesus in the Temple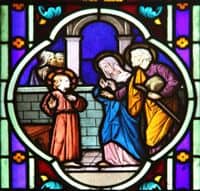 It was the annual Passover celebration and Jesus was now twelve years old. Mary and Joseph joined their community and took Jesus, as they usually did, up to Jerusalem. On their return, and having travelled for a whole day, they realised Jesus was not with either of them which, they had independently assumed. For three days, a distraught Mary and Joseph searched Jerusalem for Jesus. At last, they found him in the Temple. "Why were you looking for me? Didn't you know that I must be in my Father's house," Jesus commented?
… Mary, Queen of Heaven: Pray for Us …
The Mysteries: