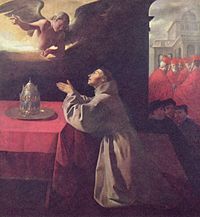 Holy Virgin, I beg of you,
when my soul shall depart from my body,
be pleased to meet and receive it.
Mary, do not refuse me then
the grace of being sustained by your sweet presence.
Be for me the ladder and the way to heaven,
and finally assure me of pardon and eternal rest. Amen.
… St Bonaventure, Pray for Us …
(By St Bonaventure)