St Bonaventure (1221 ca – 1274) was born near Viterbo, Italy. He joined the Franciscans and studied at the University of Paris gaining a degree and Doctorate.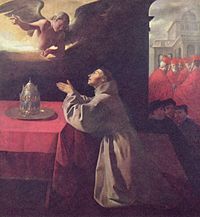 St Bonaventure has "written on almost every philosophical subject considered by Scholars". His theology was based on an integration of faith with reason.
St Bonaventure was elected Minister General of the Franciscan Order and in 1265 selected for the post of Archbishop of York but was never consecrated. Pope Gregory X appointed him Archbishop of Albano and he attended the Second Council of Lyon in 1274.
St Bonaventure is ranked with St Thomas Aquinas as the greatest of the Doctors of the Church and one of the greatest Philosophers of the middle ages.
St Bonaventure's Feast Day is the 15th July. Numerous Churches and Schools across the world are named in his honour.
---
St Bonaventure:
Pray for us that we will use our blessings to share with others, God's message of eternal life.
Glory be to the…
---