Extract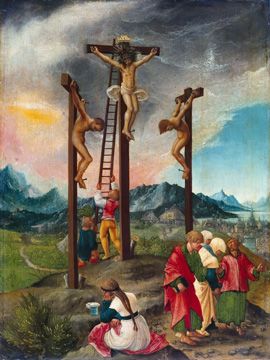 The Jewish Rulers ridiculed Jesus hanging on the Cross saying, "He saved others. Let him save himself if he is the Christ of God, his chosen one." In contrast, the good thief begged Jesus to remember him in his Kingdom.
Jesus replied, "I tell you the truth, today you will be with me in paradise." (Luke 23: 35-43)
Thought
Lord Jesus Christ, "Look upon me as the good thief, who hung on the cross next to You at Calvary… and I should be so lucky, full of Peace. Amen." (Prayers to St Dismas)
Reflection
Lord Jesus, my life is but an instant, a passing hour.
My life is but a day that escapes and flies away.
O, My God, you know that to love you on earth,
I only have today. (St Theresa of Lisieux)
Prayer: Peace (St Francis of Assisi)
Lord, make me an instrument of Your peace;
Where there is hatred, let me sow love;
Where there is injury, pardon;
Where there is error, truth;
Where there is doubt, faith;
Where there is despair, hope;
Where there is darkness, light;
And where there is sadness, joy.
O Divine Master,
Grant that I may not so much seek
To be consoled as to console;
To be understood as to understand;
To be loved as to love.
For it is in giving that we receive;
It is in pardoning that we are pardoned;
And it is in dying that we are born to eternal life.