Gospel Extract

:

At the foot of Jesus' Cross stood his Mother, his Mother's sister, Mary the wife of Cleopas, Mary Magdalene and John the Apostle.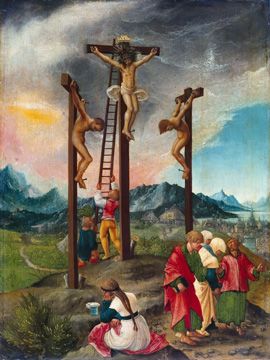 Jesus said to his Mother, "'Woman, look, here is your son!' He then said to his disciple, 'Look, here is your mother!' From that very time the disciple took her into his own home". (John 19: 25-27)
Thought
Looking up at her crucified Son, Mary's heart was broken, pierced in agony.
Jesus, looking down at her from his agony, asked John, "the Apostle whom he loved" to take his beloved Mother Mary into his loving care.
Reflection
Our Lady of Sorrows, Queen of Heaven, your Son Jesus died atoning for our sins; pray for us now and at the hour of our death. Amen.
Prayer
– Memorare
Remember O Most Gracious Virgin Mary,
that never was it known
that anyone who fled to Thy protection,
implored Thy help or sought Thy intercession,
was left unaided.
Inspired with this confidence,
I fly unto Thee O Virgin of Virgins, my Mother;
to Thee, I come; before Thee, I stand,
sinful and sorrowful,
O Mother of the word incarnate,
despise not my petitions;
but in Thy mercy hear and answer me. Amen.