Blessed Virgin Mary

O Mary, I give you my heart.
Grant me to be always yours.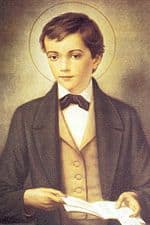 Jesus and Mary, be ever my friends;
and, for love of you,
grant me to die a thousand deaths
rather than to have the misfortune
of committing a single mortal sin. Amen.
(By St Dominic Savio)
Prayer to St Dominic

O Saint Dominic Savio, a model of purity, piety, penance and apostolic zeal for youth; grant that, through your intercession, we may service God in our ordinary duties with fervent devotion, and attain the grace of holy joy on earth, that we may one day love God forever in Heaven. Amen.
… St Dominic Savio, Pray for Us …
Also: