St John Bosco (1815 – 1888) was born in the village of Becchi, Italy. At 2yrs, his father died and it was left to his mother, Margaret, to look after him and his two older brothers.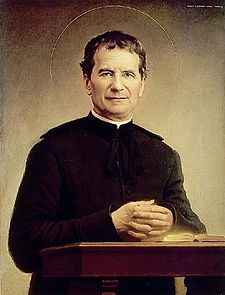 In an early childhood dream, St John was told by a Man and a Lady to prepare for battle on behalf of poor and ill-disciplined young people. The dream had a lifelong impact on him. It became his inspiration to study for the Priesthood and create homes and educational opportunities for the many 'forgotten' street children of Turin in Italy. St John was a tactful leader, combining entertainment with teaching and prayer; even the most hardened youths wanted to be involved in his work.
St John Bosco, ordained in 1841, created the Society of St Francis de Sales, the precursor to the Salesian Order, to engage boys in education and work and, together with Maria Mazzarello, a similar order was founded for young girls. Salesian numbers rapidly increased during his lifetime and today, remain an active force on every continent.
When others commended St John for his great work, his reply was, "I have done nothing by myself, it was Our Lady who did everything"; possibly a reference to his childhood dream!
St John Bosco's Feast Day is 31st January, the day of his death. He is the Patron Saint of editors and publishers, young people, troubled youths, Christian apprentices and magicians.
---
St John Bosco:
Pray for us that we will guide our children to the teachings of Jesus Christ through our daily prayers and actions.
Glory be to the…
Also: