Lord Jesus, look kindly on my work and the work of my friends today.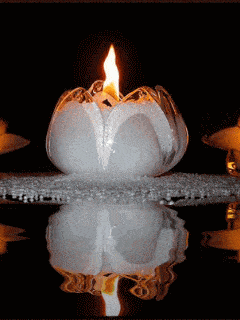 Help us in our difficulties and decisions.
May this candle be a light for you to enlighten me. May it be a fire for you to burn out of me all pride, selfishness and impurity. May it be a flame for you to bring warmth into my heart; warmth towards my family, my neighbours and all whom I meet.
~~~ ~~~ ~~~
Jesus, through the hands of Mary, Virgin and Mother, I place in your care, this, my special intention… (Share your request…)
By sharing this candle, I wish to give you something of myself; the love in my heart.
Jesus, help me to live close to you in prayer today. 
… Thank You, Jesus. Amen. …
---
Prayer Request Box
Note: Website users private prayer intentions, are automatically included in our Daily Novena and Monthly Masses.

However, if you still wish to submit a written request to our Prayer Group, do so below (Max 130 characters):
Recent Requests
Pray for our young people that they will know God exists and loves them.

Thank God for his kindness despite our poor behaviours.

🇮🇪 Wishing all Daily Prayer website users a beautiful day. 🇮🇪 St Patrick be our guide... 🇮🇪

St Patrick, pray for our beautiful GREEN world: 🦚 🦜 🐸 🐊 🦎 🦖 🐛 🦠 🌲 🌳🌵 🌴 🌿 ☘️ 🍀 🍃 🌱 🪴 🪲🌡

May all who celebrate 💚 St Patrick's Day 💚 today, stay safe and enjoy. HAPPY 💚 ST PATRICK'S DAY 💚 TO THE WORLD. 💚 💚 💚

Happiness in the world 🥳 food 🍓 and love 🥰

Pray that another World War will be avoided and people will be more respective of our beautiful Earth, created by God.

Eternal rest to the souls of TW, A and CM. Thank you Jesus for your kindness.

Keep my friends AP, JD and MD in your prayers. May the find lasting joy.

Pray for peace in my country. Peace be with all.

To understand racism and the world to treat everyone the same.

That help and good health will come to my family, I pray.

Pray that I will become more respectful and understanding towards others.

Pray for Pope Francis. May he be guided to God''s will.

Keep my family - PD, BD, GFS and GMS in your immediate prayers please.

Remember Presidents and Leaders that they will put the poor before those who already have plenty.

Pray for an end to gun crime, gun accidents... the unnecessary death of so many beautiful people.

Lord, guide the homeless to food and a safe place to sleep tonight.

Have mercy on the souls of LM, BD, PD, MMS, JD, PMS, PW, and all my friends and family. May they RIP.

Pray that the family-destroying war in Ukraine and others around the world ends quickly.

Keep my sick child in your prayers please.

God bless all who are unloved and pushed to the edge of society. Pray for them.

Pray for the many thousands of street children in my home city. May they find love and happiness.

I am a single parent. Pray that I can find love again.

Remember the housebound and lonely in your prayers please. There are many, many...

I want to send my children to school but I can't. Our family are too poor.

As a young autistic student, I ask you to pray for us that we will find ways to do simple daily tasks others take for granted.

Keep the old and lonely in your prayers today. A rare visitor is a lifeline for me.

Remember the victims of the most recent mass shooting, this time in Hamburg, Germany. God, have mercy.

Can you pray for a special intention of mine please? Thank you and I will remember you in my prayers also.