St William (Died 1154) was born in York, England, the son of the Chancellor and Treasurer to King Henry I. Prior to becoming Archbishop of York, St William was a Senior Clergy member and the Treasurer. His election was only accepted by the Pope on condition that he swore, under oath, that he hadn't gained promotion through bribery. This he did and was consecrated as Archbishop in 1143.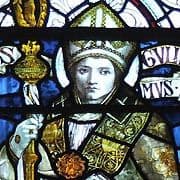 Controversy dogged his appointment and at one stage he was suspended only to be reinstated again as Archbishop. St William was very popular among the people of York. He died in 1154, allegedly from poison administered in the chalice at Mass, but unproven. Many miracles were reported following his death, often associated with his tomb at York Minster.
St William was canonised in 1227. His Feast Day is the 8th June.
---
St William of York:
Pray for us that we may become worthy to receive the eternal gift of happiness in Heaven.
Glory be to the…
---