St Margaret Ward (Died 1588) was born in Congleton, England.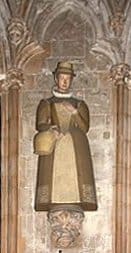 While living in London, she heard about the inhumane treatment of the Catholic Priest Fr Richard Watson. He was being held in Bridewell Prison, under the reign of Queen Elizabeth, for performing his Catholic religious duties. St Margaret started visiting him and although she was generally well searched on entry, over time, the authorities became less cautious and she smuggled to him, a rope.
Fr Watson used the rope to escape from his cell but hurt himself in the process and was forced to leave the rope attached to his cell window. His escape boatman then refused to transport him to safety and he had to confide in another man, John Roche, who happily assisted in his escape.
John Roche was however captured and Margaret, being Fr Watson's only prison visitor, was soon arrested. At her trial, she admitted assisting Fr Watson's escape but refused to renounce her faith or attend a Protestant service. As punishment, St Margaret was duly hanged along with John Roche at Tyburn in London on 30th August 1588.
St Margaret's Feast Day is the 30th August. She is one of the forty English and Welsh Martyrs.
---
St Margaret:
Pray for peace in our hearts and trust in the presence of Jesus around us.
Glory be to the…
---