Featured Saint: St Cecilia of Rome (Died 230)
St Cecilia was a noble lady of Rome. She was martyred, together with her husband, her brother and a roman soldier for her Christian beliefs and practices.
St Cecilia was a talented musician and vocalist, it is often said that on her wedding day she, "Sang in her heart to the Lord".
There are many romantic stories about St Cecilia, and modern day musicians have compiled many songs in her name. Legend holds that, having been struck by a sword at her martyrdom, she remained alive for three more days. Her Feast Day is celebrated worldwide and is associated with festivals and musical celebrations including many liturgical celebrations.
In 1599, St Cecilia's body was discovered to be incorrupt. She is the Patron Saint of musicians.
+ In the Name of the Father, and of the Son, and of the Holy Spirit. Amen +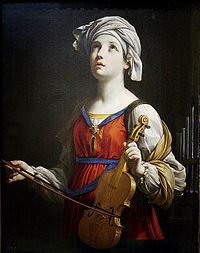 Short Story: Jesus answered Pilate saying, "My kingdom is not from this world. If my Kingdom were from this world, my servants would be fighting to keep me from being handed over to the Jewish authorities. But as it is, my Kingdom is not from here." (John 18:36)
Thoughts: Our real home is also in God's Kingdom! But we must be worthy, to gain entry!
Private Reflection: Lord Jesus, give us the courage and strength to pick up our cross, follow you to your Kingdom and remain with you for all eternity. Amen.
Prayer: Faith ~ by Simeon the Theodidact
You possess me, Lord, and I possess you
You have put your faith and hope in me
and I have put my faith and hope in you.
My life, my honour, my happiness, my peace,
all rest in you.
You can see me every second of my life;
Make my heart ready to receive you
and my soul ready to see you.
St Cecilia: Pray for Us
Today's Music Suggestion: Bind Us Together
+ In the Name of the Father, and of the Son, and of the Holy Spirit. Amen +
[To view and enjoy the full Readings for today TAP HERE – Opens in a new Window]
(22nd November 2015 ~ John 18:33b-37)