Blessed Thomas (ca. 1621-1679) was born in Westmorland, England around 1621. He entered the Benedictine Monastery of St Gregory at Douai, Flanders (Relocated in 1814 to Mount Pleasant, Downside, Somerset) and became a lay-brother in 1660.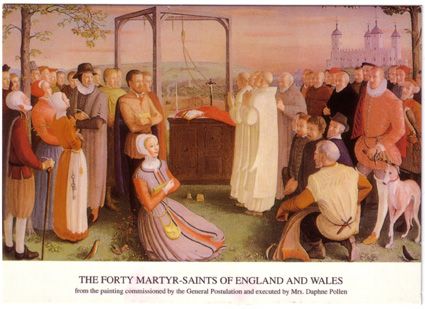 In 1665, Blessed Thomas was appointed steward at the Chapel of Catherine of Braganza who was the Catholic wife of King Charles II. When, in 1675, King Charles ordered the Benedictines to leave England, Bl. Thomas was somehow excused possibly because he wasn't a Priest.
However, in 1678, Bl. Thomas was falsely accused by Titus Oates to have been involved in the conspiracy known as The Popish Plot. This led to his false conviction and ultimate martyrdom at Tyburn in London, despite the great concerns of his innocence by King Charles and the Queen.
Bl. Thomas is one of the 108 martyrs beatified in 1929 by Pope Pius XI.
---
Bl. Thomas Pickering:
Pray for us that we will remain honest in our work and actions despite all apparent short-term attractions.
Glory be to the…
---