Featured Saint: St Wolfgang of Regensburg (924 – 994)
St Wolfgang was born into a Royal family and received a good education; attending the celebrated monastic school of Reichenau Abbey. At first, he became a teacher at the Cathedral School of Trier before joining the Benedictines.
St Wolfgang was ordained a Priest by St Ulrich and afterwards, he went to Hungary as a missionary to help evangelize following a succession of wars. In 972 he was appointed Bishop of Regensburg and became a greatly respected Pastor. Towards the end of his life, St Wolfgang yearned for a hermit style existence and withdrew to a quiet place hoping to end his days in prayer and penance. His hideaway was however discovered and he was taken back to Regensburg to be among his community.
St Wolfgang is regarded as one of the three great German Saints; the others being St Ulrich and St Conrad of Constance.
+ In the Name of the Father, and of the Son, and of the Holy Spirit. Amen +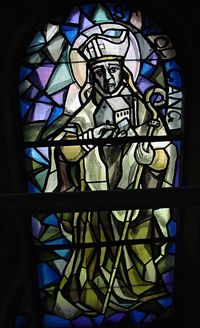 Short Story: Jesus said, "When you are invited by someone to a wedding feast… take the least important place, so that when your host approaches he will say to you, Friend, move up here to a better place." (Luke 14:8,10)
Thoughts: "Friend," it's a beautiful greeting to receive.
It would be even more beautiful if the words came from Jesus!
Perhaps, as well as inviting us to be his friend, Jesus was also saying, to love Him we must also become humble in heart!
Reflection: Lord Jesus, teach me how to love you, so that your light shines on my path and evil finds no place.
Prayer: Transform me
O my Divine Saviour, transform me into yourself.
May my hands be the hands of Jesus.
May my tongue be the tongue of Jesus,
Grant that every faculty of my body may serve only to glorify you.
Above all, transform my soul and all its powers,
so that my memory, my will and my affections
may be the memory, the will and the affections of Jesus.
I pray you to destroy in me all that is not you.
Grant that I may live but in you and for you,
and that I may truly say with St. Paul:
"I live, now not I, but Christ lives in me" (Gal 2:20).
St Wolfgang: Pray for Us
Today's Music Suggestion: I Watch The Sunrise
+ In the Name of the Father, and of the Son, and of the Holy Spirit. Amen +
[To view and enjoy the full Readings for today TAP HERE Opens in a new Window]
(31st October 2015 ~ Luke 14:7-11)