---
St Alphonsus Rodriguez

(1532 – 1617)
St Alphonsus was born the son of a wool merchant at Segovia, Spain. He received little education and worked for the family business. At 14, his father died so, his education ended, since helping his mother at home took greater priority. At 26, he married and was blessed with three children. Sadly, by 31, two of his children and his wife had died.
St Alphonsus became deeply religious. He followed a strict life of prayer and penance that including self-mortification. When his third child died, he decided to join a religious community but because of his poor education, his options were few. At the age of 40, he was accepted by the Society of Jesus in Majorca as a Lay Brother and took his final vows at the age of 54. His duties were as a porter, serving others by humble means; a job he cherished for 46 years until his health failed him. It is said that St Alphonsus' great legacy was his personal impact on the people he met in his daily work.
---
Story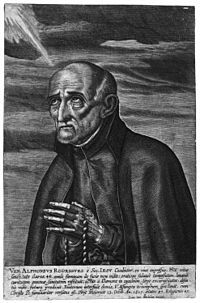 Once, when Jesus went to Jericho, he chose a rich tax collectors house to stay in overnight.
The local people were aghast saying, "He has gone in to be the guest of a man who is a sinner".
The rich tax collector said to Jesus, "Look, Lord, half of my possessions I now give to the poor, and if I have cheated anyone of anything, I am paying back four times as much".
Jesus replied, "Today salvation has come to this household… for the Son of Man came to seek and save the lost". (Luke 19:7-10)
Thought
Jesus didn't say a rich man couldn't enter heaven, he said, – it was easier for a poor man!
Reflection
Lord Jesus, you are the light of the world. Shine in our hearts so that we can see your true love in the rich and the poor, in our words and our actions.
A Prayer –

Peace (St Francis of Assisi)
Lord, make me an instrument of Your peace;
Where there is hatred, let me sow love;
Where there is injury, pardon;
Where there is error, truth;
Where there is doubt, faith;
Where there is despair, hope;
Where there is darkness, light;
And where there is sadness, joy.
O Divine Master,
Grant that I may not so much seek
To be consoled as to console;
To be understood as to understand;
To be loved as to love.
For it is in giving that we receive;
It is in pardoning that we are pardoned;
And it is in dying that we are born to eternal life.
Private Moments
Music Suggestion: Be Thou…

Listen, reflect, enjoy…

St Alphonsus:

Pray for us that one day we will join you among the Angels and Saints and sing our praises to Almighty God.

Glory be to the…

Almighty God, thank you for this new day. Bless me and keep me safe.
Other Links
| | |
| --- | --- |
| Fr John's Weekly: | Today's Full Readings: |