Background: St Teresa was born at Avila, Spain. Her mother died when she was 14, "Prompting her to embrace a deeper devotion to the Virgin Mary as her spiritual mother". She entered a cloistered life with the Augustinian Nuns and then a Carmelite Monastery. She experienced numerous mystical visions and is closely associated with the venerated image of the Infant of Prague. Her Feast Day is 15th October.
---
Day 3

O Most Loving Lord Jesus Christ:
We thank You for, "The great gift of love," which You granted to Your beloved Teresa.
We pray that, by Your merits and by those of Your most loving spouse Teresa, we will receive the great crowning gift of Your perfect love.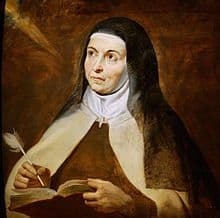 St Teresa, I pray (Share your request…) but may the will of God the Father Almighty be done.
Prayers: Our Father… Hail Mary… and Glory be…
St. Teresa: Pray for us, that we may become worthy of the promises of Jesus Christ.
Let us pray:
Graciously hear us, O God of our salvation:
that as we rejoice in the commemoration of Blessed Teresa,
we may be nourished by her heavenly teachings
and draw from it the fervour of a tender devotion.
This we ask through our Lord Jesus Christ, Your Son,
who lives and reigns with You in the unity of the Holy Spirit,
God for ever and ever. Amen.
… St Teresa of Avila, Pray for Us …
[By St Alphonsus Liguori]

Related Link: Prayers by and to St Teresa of Avila
---