St Gregory (1833 – 1900) was born in Castellazzo Bormida, Italy. At 15, he joined a Franciscan Monastery and was ordained a Priest at 23. St Gregory's desire was to be a missionary and in preparation for the Chinese Missions, he underwent further training in Rome.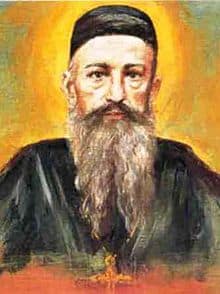 St Gregory quickly settling into a missionary life in China. He established a provincial novitiate as well as orphanages for victims of plague and famine. When the Boxer Rebellion broke out, St Gregory was advised to leave the country but he refused saying, "Ever since I was twelve, I have desired and also asked God for martyrdom. Now that this longed-for hour has come, must I run away?"
St Gregory was arrested along with many other European and Chinese missionaries. He was imprisoned, tortured, put on public display and then marched through the surrounding villages. The next day, along with his fellow prisoners, he was beheaded.
During the Boxer Uprising, "5 Bishops, 50 Priests, 2 Brothers, 15 Nuns and an estimated 40,000 Chinese Christians were martyred across China".
St Gregory Grassi's Feast Day is the 9th July, the day of his martyrdom.
---
St Gregory Grassi:
Pray for us that we will seek the wisdom to search for a deep love of Jesus in our preparations for death.
Glory be to the…
---