St Zita (1212-1272) was born in Monte Saegrati, Tuscany, into a poor family.
At 12yrs, she became a humble servant to the rich Fatinelli weaver household, citizens of Lucca in Italy, a role she remained in for the rest of her life, forty-eight years.
St Zita was diligent, hard working and patient. She believed that "a servant was not holy if she was not busy; laziness was fake holiness". She considered her work to be a blessing from God.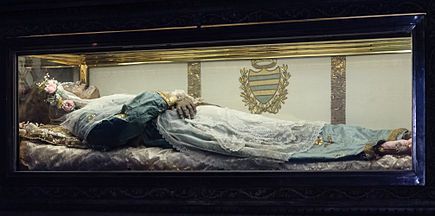 Despite her heavy workload, St Zita found time to attend daily Mass and help the poor, sick and imprisoned. Initially, her good works were resented by her employers, colleagues and others. However, over time, people realised her kindness generated more kindness and instead of being marginalised, they admired and respected her. When she was given charge over the Fatinelli household and their children, St Zita gladly accepted while continuing to do her charity work.
It was once told, that when St Zita became engrossed in prayer in the local Church, at a time when she should have been baking bread, she returned to the kitchen to find the bread already baked. Approaching other servants to thank them, they told her that they hadn't done so but some said they saw Angels baking the bread for her.
Following St Zita's death in 1272, many miracles were reported, leading to her canonization in 1696. Her body was exhumed in 1580 and found to be incorrupt. It has since been mummified and is currently on display at the Basilica di San Frediano in Lucca.
St Zita Feast Day is the 27th April. She is the Patron Saint of domestic workers, waiters and waitresses.
---
St Zita:
Pray for us that we will patiently accept the daily chores Almighty God asks of us and that we will give generously of our time to the poor.
Glory be to the…
---