St Wenceslaus (905 ca – 935) was born the son of the Duke of Bohemia in Prague, Czech Republic. His father was Christian and his mother a pagan although, she was baptised a Christian just before their marriage. Sadly, his father died when he was 13 and his grandmother, who cared for him, was killed by his mother as a result of family infighting for power.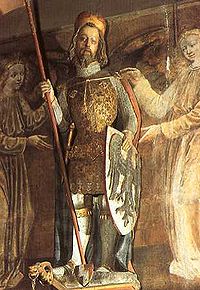 In his youth, St Wenceslaus was very pious. At 18, he was appointed Duke, but great political turmoil followed, leading to multiple factions and fighting. Despite the problems, he was a "Gifted ruler and a genuine friend of the Church." His life is part celebrated in the Christmas Carol, Good King Wenceslaus.
In 935, St Wenceslaus was invited to attend celebrations for the feast of Saints Cosmos and Damien; it was a devious plot. On his way to the Church, he was killed during a confrontation with his ruling brother and three of his companions. He was immediately deemed to be a martyr.
St Wenceslaus is the Patron Saint of Bohemia and parts of the Czech Republic.
---
St Wenceslaus:
Pray for us that we will perform our daily leadership duties fairly and with enthusiasm.
Glory be to the…
---