St Vincent (1745-1824) was born at Civitavecchia in Italy. He was the youngest of four children. Sadly, his three older siblings died in childhood.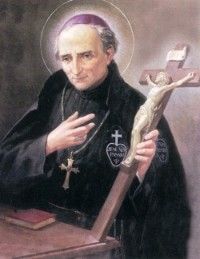 Like all parents, St Vincent's had a lifelong impact on their son. His father and mother were devout Catholics and gave generously to the poor. They supported his early education with the Friars Minor and, although wanting him to become a Diocesan Priest which he resisted, they gave him their blessing as he entered Seminary College.
St Vincent was ordained a Priest in 1767 and joined the Passionists in 1768 having met St Paul of the Cross, their founder. He was a charismatic preacher to both the laity and Religious, and delivered many missions, drawing large crowds.
In 1773, St Vincent was appointed Professor of Theology at the Passionist house in Rome. This was soon followed by his appointment as Rector of the Roman house and Provincial of the Roman Province.
In 1801, St Vincent was appointed Bishop of Macera and Tolentino, and soon gained the respect of the people. He became well known for his help with the poor and support for vocations.
St Vincent was exiled to Mantua from his See for four years during the Napoleonic period for refusing to sign allegiance to the French invaders.
In 1823, aged 81, although St Vincent had retired as Bishop, he was appointed Personal Advisor to Pope Leo XII.
St Vincent's Feast Day is the 25th of September. He is the Patron Saint of the Diocese of Macerata-Tolentino.
---
St Vincent Strambi:
Pray for our transformation today, so that God's work will be done through us.
Glory be to the…
---