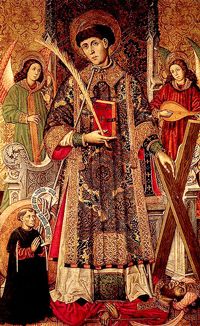 St Vincent (Died ca 304) was born in Huesca but lived in Saragossa, Spain. He was ordained a Deacon and commissioned to preach the Gospel throughout the Diocese of Saragossa. He was also the spokesperson for Bishop Valerius of Saragossa who had a speech impediment.
During Emperor Diocletian's period of Christian persecution, St Vincent and Bishop Valerius were imprisoned. Refusing to renounce his faith, St Vincent was tortured on a rack and stretched with iron hooks before being returned to his cell where he died of his wounds. The frail Bishop Valerius was exiled.
St Vincent's Feast Day is 22nd January. He is the Patron Saint of Sao Vicente, Vicenza and Valencia. The Island of St Vincent in the Caribbean is also named after him.
---
St Vincent:
Pray for us that we will remain faithful to the teachings of Jesus Christ.
Glory be to the…
---