St Vincent de Paul (1581 – 1660) was the third child in a poor peasant farming family at Pouy, France. Although a talented student, family priorities meant that he was required to help on the family plot.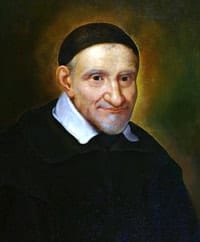 At 15, St Vincent de Paul went to Seminary College and then studied at Toulouse University receiving a Bachelor of Theology. He part-paid for his studies by tutoring other students.
At 19, St Vincent de Paul was ordained a priest and appointed Parish Priest a few years later. However, he resigned his Parish Priest role to avoid legal appeals against his appointment because of his young age.
On a return boat trip to Marseilles, St Vincent de Paul was taken captive and, for the next two years, he was sold and passed on as a slave from one master to another. When he was finally released from slavery, he returned to France and went to Rome to resume his studies. On his return to France, he ministered as Chaplain and Priest.
St Vincent de Paul founded, "The Ladies of Charity", a group of wealthy women, to collect funds for missionary projects, hospitals, victims of war and to pay ransoms for the release of gallery-slaves in Paris. He also became the leader of, "The Congregation of the Mission" and was diligent in conducting retreats for clergy at a time of great clergy laxity.
St Vincent de Paul was well known by his flock for his compassion, humility and generosity. He was referred to as, "The Great Apostle of Charity".
St Vincent de Paul's Feast Day is the 27th September. He is the Patron Saint of Charities including the St Vincent de Paul Society.
---
St Vincent de Paul:
St Vincent, patron of all charitable associations
and father of those who are in misery,
come to our assistance.
Obtain from Our Lord help for the poor,
relief for the infirm,
consolation for the afflicted,
protection for the abandoned.
(Extract from Prayer To St Vincent de Paul)
Glory be to the…