St Veronica Giuliani (1660 – 1727) was born at Mercatello, Italy. She was drawn to a religious life at an early age; others often noticed her generosity towards families that were less well off. At 16 she had her first vision; it reinforced her caring nature towards others.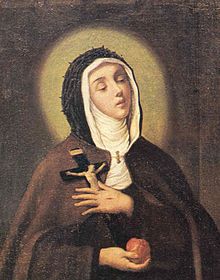 Despite her father's wishes for her to attend local social activities, with the view to finding her a husband, she resisted. Instead, at 17 she joined a Capuchin Monastery. She chose the name, Veronica, in memory of Christ's passion and Veronica who wiped his face on the road to Calvary. Her daily prayer routine evolved around general monastery duties, from the sacristy to the kitchen, until the age of 34 when she was appointed Novice Mistress. She retained this role for the next 22 years and then held the role of Abbess for another 11.
St Veronica's devotion to Christ's passion and her visions continued throughout her life. She received stigmata marks on her head, hands and feet. They were often humiliating for her. Once, on the orders of the Bishop, she was removed from her community and endured rigorous examination and checking to confirm their authenticity. Her incorrupt body is enshrined at Castello.
---
St Veronica Giuliani:
Pray for us that we will remain firm in our conviction to the teachings of Jesus' Gospel.
Glory be to the…
---