There are many legends relating to probably many St Valentines!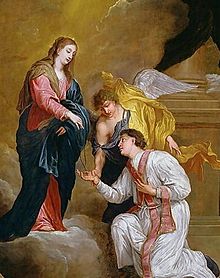 The St Valentine celebrated today (Died Approx. 269) was a Priest and Christian martyr who died on the Via Flaminia, Rome. He was arrested for marrying Christian couples during the Roman reign of Emperor Claudius II. Christians, at that time, were persecuted by Claudius and marriage was outlawed. However, Claudius liked St Valentine greatly and allowed him to do his work. That was until St Valentine tried to convert him to Christianity! Claudius' response was to have him imprisoned, tortured and beheaded.
One account of his time in prison describes a guard, who like many others respecting St Valentine immensely, asked him to help his blind daughter. St Valentine agreed and after praying to God, the girl's sight was miraculously restored.
St Valentine's Feast Day is 14th February, the day of his death. His Patronages include love and happy marriages.
---
St Valentine:
Pray for us that love permeates everyone we meet and everything we do for the remaining days of our precious life.
Glory be to the…
---