St Thomas (Died 72AD) was one of Jesus' twelve Apostles. He was a witness to much of Jesus' ministry. He is probably best remembered for doubting that Jesus had risen from the dead saying, "Unless I see the wounds from the nails in his hands, and put my finger into the wounds from the nails, and put my hand into his side, I will never believe it".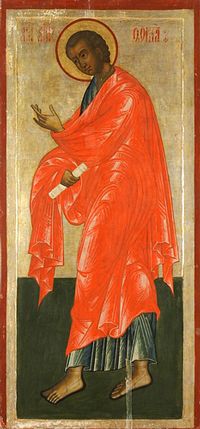 When Jesus later appeared to Thomas, He showed him his multiple wounds and invited him to examine them, an overwhelmed Thomas immediately believed, acknowledging Jesus as "My Lord and my God". (John 20:28)
After Jesus' Ascension into Heaven, St Thomas travelled to India to spread the Gospel. According to tradition, he was killed in 72 AD by spearing.
The Feast of St Thomas is the 3rd July. He is the Patron Saint of India, Saint Thomas Christians and Sri Lanka.
---
St Thomas the Apostle:
Pray for us that we will love the Risen Lord Jesus with all our heart, soul and strength.
Glory be to the…
---