St Thomas (1488 – 1555) was born into a relatively wealthy Catholic family at Fuentellana, Spain. His childhood was greatly influenced by his parent's generosity to the poor through their regular distribution of food and clothing. At 16, a gifted student, he went to University and studied fine arts and theology. Later he was appointed a Professor.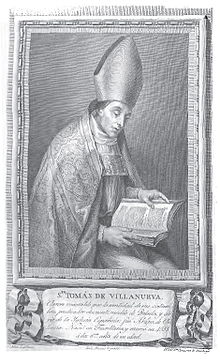 At 28, St Thomas decided to study for the priesthood and joined the Augustinian friars. As a Priest, he was renowned for his eloquent sermons; it was said that he could, "Move even the stones".
St Thomas refused various appointments as Bishop, preferring direct contact with the poor, orphaned, women without dowry and the sick, that is, until it was forced upon him by his Superiors.
As Bishop, St Thomas didn't disappoint. He reorganised his dioceses, according to need, and set up schools and other systems which gave long-term answers to problems. His inspirational work continued until his death.
St Thomas lived frugally throughout his life, preferring to give everything he had to those in greater need.
St Thomas' Feast Day is the 22nd September. He is the Patron Saint of Villanova University.
---
St Thomas of Villanova:
Pray for us that we will see the needs of others less fortunate than ourselves as our daily responsibility.
Glory be to the…
---