St Stephen (Died Approx. 34AD) was a Jewish convert to Christianity. He is traditionally regarded as the first martyr of the Christian Church following Jesus' death.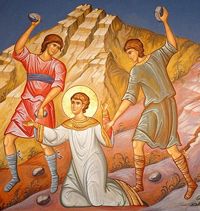 In the New Testament, St Stephen is described as, "Full of faith and the Holy Spirit and to have performed miracles, signs and wonders among the people". (Acts 6:5, 8)
St Stephen was a Deacon who aggravated members of Jewish synagogues so much, through his preaching and teaching of Christianity, that they had him arrested.
At St Stephen's trial, he was accused of blasphemy against Moses and God. St Stephen rigorously defended Jesus' Gospel teachings but the crowd took him outside Jerusalem and stoned him to death.
St Stephen's Feast Day is the 26th December.
---
St Stephen:
I stand continually in danger although I do not always recognise this, and I am the more miserable and wretched when I forget that it is so. Pray for me, a sinner. (Extract from a prayer to St Stephen)
Glory be to the…
See Also: