Blessed Solanus Casey (Barney Casey) (1870-1957) was born the sixth of sixteen children to Irish immigrants at Wisconsin, USA. In his youth, he caught diphtheria leaving him with a permanently damaged voice. At 17, he left his home farm and worked in a series of jobs including lumberjack, hospital porter and prison guard.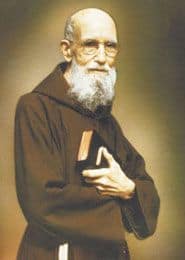 One day, after witnessing a brutal murder, Bl. Solanus changed his lifestyle forever. He embarked on years of study for the Priesthood but because of his limited education, at 33yrs he was ordained only as a Capuchin Simplex Priest i.e. allowed to preside at Mass but unable to preach or hear confessions.
Over the following decades, Bl. Solanus served the community of many friaries generally as a porter, doorkeeper or receptionist and by visiting the sick and performing prayer services. He became well known within his communities and many miraculous cures were attributed to him. After a life of suffering from eczema and other degenerative illnesses, he died at 86, unaware that the Vatican had agreed to grant him full Priestly rights. His final words were, "I give you my soul, Jesus Christ".
Following the approval of a miracle on 2nd May 2017, Bl. Solanus was beatified on 17th November 2017.
---
Bl. Solanus Casey:
Pray that we will humbly accept whatever is asked of us in the name of the Risen Jesus.
Glory be to.…
---