St Sava or St Sabas (1174-1235) was the youngest son of a Serbian Grand Prince. At 17yrs, he became a Monk and later Abbot, founding many Monasteries and Churches including, Khilandrai Monastery on Mount Athos. He was the first Archbishop of the Serbs and remains one of their greatest figureheads.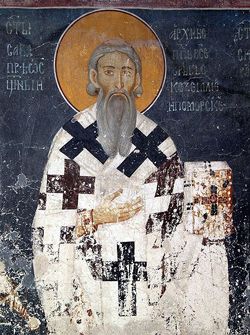 When St Sava moved to Greece, his father begged him to return home. His son's response was, "You have accomplished what a Christian sovereign should do; come now and join me in the true Christian life". His father responded by joining him, becoming a Monk, and together, they continued his great work. His father was also canonised a Saint, St Simeon.
St Sava's Feast Day is 14th January, the day of his death. He is the Patron Saint of Serbian Schools.
---
St Sava:
Pray for us that we will live by God's teachings through our daily words and actions.
Glory be to the…
---