St Samson (ca 485-565) was born in Glamorgan, Wales. His mother was the daughter of the King of Glamorgan and Gwent. He was placed in the care of St Illtud, abbot of Llantwit Fawr, at Llantwit Monastery.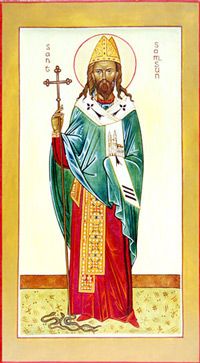 St Samson became a Monk and later abbot of the island monastery of Caldey (Pembrokeshire). He was joined by his uncle, Umbrafel, and father, Amon. Following a period in Ireland, where he reestablished or built a monastery, he returned to Wales and became a hermit with his father.
St Samson travelled to Cornwall and founded a community at either South Hill or Golant (Isles of Scilly). In 521, he was appointed Bishop of Cornwall. Thereafter, St Samson travelled to Brittany as a missionary and founded more monasteries, including one at Pental in Normandy and one at Dol in Brittany where he died.
St Samson is counted among the seven foremost evangelizers and Saints of Brittany, the others being Pol Aurelian, Tugdual (Tudwal), Brieuc, Malo, Patern (Paternus) and Corentin.
St Samson is greatly venerated in Wales and Brittany. His Feast Day if the 28th July.
---
St Samson:
Pray for us that we will follow the right path to the Risen Jesus.
Glory be to the…
---