St Rose (1656 – 1728) was born in Viterbo, Italy. She was one of four children. Her father was a Doctor in the City Hospital. As a young child, she wanted to become a nun but, in later life, she chose to accept a proposal of marriage.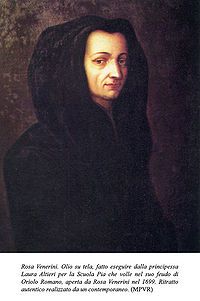 St Rose experienced great family tragedy. Firstly, her husband died and then her father. This was soon followed by her brother and finally her mother. At 24, St Rose, the only person living in her family home, started to organise Rosary gatherings. The experience taught her that, "the average woman of the town was a slave to cultural, moral and spiritual poverty". St Rose had discovered her life mission; she was determined to establish a formal system for women's education.
In 1685, with the approval of the local Bishop, St Rose and some friends opened her first public school for girls. She faced numerous obstacles, from various church and other authorities, preventing her from continuing her mission but her perseverance won. By the time of her death, there were in excess of forty similar schools across Italy.
Her Feast Day is the 7th May, the day of her death.
---
St Rose:
Pray for us that we will treat all people equally and forever support the cause of the oppressed and marginalised.
Glory be to the…
---