St Rose (1769 – 1852) was born the second of seven daughters and one son, into a wealthy family in Grenoble, France. She contracted smallpox in childhood which left her partially scarred. She was educated in a local monastery and then privately, in the family Chateau.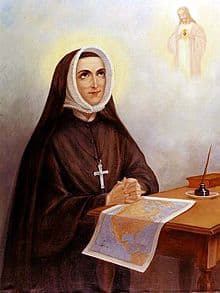 At 19, St Rose secretly joined a Religious Order, against her family's wishes. She remained there for four years until the monastery was closed, due to the French Revolution, and then returned home.
St Rose yearned to return to monastic life but had to wait for 7-8yrs before the Catholic Church was allowed to reopen its buildings. Overjoyed, she returned, with other community members, to the badly destroyed monastery and tried to rebuild it.
In 1815, St Rose established a new convent in Paris and opened a school. It was there that an opportunity to fulfil another of her dreams arose, to be a missionary. She travelled to Missouri, with a small group of Sisters, and established a new community among the poor and hungry immigrants. Her work and that of her Order flourished.
Much of St Rose's last decade was spent in quiet prayer. She died, aged 86yrs.
---
St Rose Philippine Duchesne:
Pray for us that we will never cease to use our talents and skills to live Jesus' message.
Glory be to the…
---