St Rosalia (1130-1166) was born into a noble family at Palmero. She was a descendant of Charles the Great who united much of Europe during his thirteen-year reign (742-814).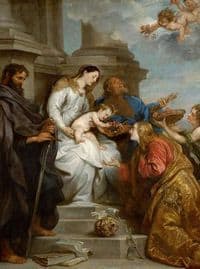 St Rosalia was a devout Christian who left her home and family riches to live an isolated and austere life filled with penance and prayer. Her new home was a cave on Mount Pellegrino where she "remained entirely hidden from the world" and died alone in 1166.
St Rosalia wrote on the cave wall, "I, Rosalia, daughter of Sinibald, Lord of Roses and Quisquina, have taken the resolution to live in this cave for the love of my Lord, Jesus Christ."
Many miracles and apparitions were associated with St Rosalia. Famously, in 1624 during an outbreak of plague in Palmero, her body was exhumed and her relics taken in procession around the city whereupon, the plague ceased.
St Rosalie's Feast Day is the 4th September. She is the Patron Saint of Palermo and three towns in Venezuela: El Hatillo, Zuata, and Anzoátegui.
---
St Rosalia:
Pray for us that we will put our total trust in our Lord, Jesus Christ.
Glory be to the…
---